---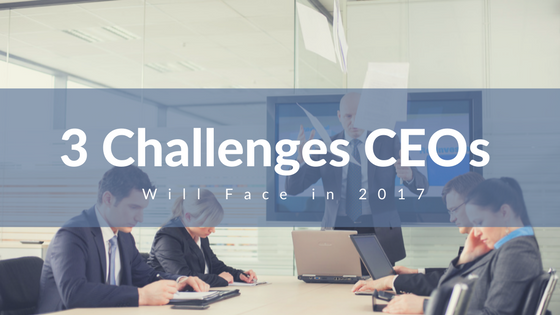 2017 has commenced both full of outstanding promise and a few potential pitfalls.
In discussions with CEOs, Chairpeople, and Directors I have identified 3 main challenges that many firms are confronting this year and can be of consideration for your organization as well.
Adjusting To New Political Realities
From Brexit to the USA presidency to the renegotiation of NAFTA and adjustments in finance and banking ranging from China to Italy this year faces a political upheaval not experienced in decades. Organizations need a strong risk management plan and a strategy which is dynamic to support changing tariffs, employment laws, and potential capital controls. The most successful firms are confronting this head on and preparing for a number of high probability and high impact scenarios to be able to adjust as soon as their organizational triggers confirm an event is occurring.
This advance planning saves significant risk of operational interruption and earnings variance while enabling the business units to also identify potential upside transactions as a result of regulation changes.
Technology Risks
Forbes estimates that Cyber Crime will cost organizations more than 2 Trillion US Dollars in 2019. As an example, the leading British telecommunications firm Talk Talk lost over one hundred thousand customers in 2016 following a reported hack of their systems leading to material impact losses. CEOs and directors are required to confront this issue and minimize risks to customers, employees, and shareholders while ensuring they are not impairing the organization with unnecessary bureaucracy or security. The balance between cost, risk, and capital deployment are a theme that is increasingly relevant and needs to be carefully examined to ensure protection.
Acquisition Pipelines
Inorganic growth and the development and nurturing of M&A pipelines is a topic that has become increasingly relevant in the board room. Deloitte reported that in the USA October 2016 was the busiest month for M&A transactions in history. Fortune predicts 2017 will be even stronger. What many firms have discovered is that outsourcing M&A is not enough and does not produce the results shareholders require. As a result the development of the specialized capabilities internally required to target and nurture targets is an investment firms need to make and dedicate resources to. The most successful companies are using their Strategy formulation and implementation programs to identify the Product and Market segments where they have the highest priority to invest and can generate actual synergies. One work stream I have found particularly useful is calculating not only the synergies and also the dis-synergies that come from an acquisition and being realistic with the board about what those costs will be in terms of lost customers, lost revenue, and time to integrate a new country and culture into the organization. The biggest reason I have identified for failure in acquisitions originates from a "don't worry we've got this" attitude as opposed to taking the time and investing both externally and internally to develop the integration plan that will make a difference in moving the profit needle.
While 2017 is not an easy year to be a CEO or a director what I have found is that firms confronting head on the challenges and opportunities and leveraging well thought out tested processes for Strategy implementation and risk management are forecasting strong profitability and in many cases exciting growth. Organizing your teams and business units to recognize potential pitfalls and working through well thought through plans considerably reduces unnecessary anxiety and allows the CEO and the entire firm to sail as smoothly as possible through potentially rough waters.
Best start and wishes in the year of the Fire Rooster 2017.