No I am not talking about a race to make decisions, I am talking about making the best decisions to be competitive. In the current global economic climate, CEOs seek ways to maximize their company's business performance, hence competitiveness. And that involves a myriad of strategic and tactical decisions made on an annual, quarterly and daily basis. I challenge any CEO to ask their executive team to define business competitiveness. Likely the responses will vary, and that is the crux of the problem – an impediment to effective decision-making that drives results is misunderstanding what makes a business competitive.
Business competitiveness are the internal advantages a company possesses, relative to their competitors, to sell, promote and deliver the products they offer to the markets they serve. Advantages can be either people or processes, but they must be perceived as valuable and unique compared to the competition and viewed as high quality and cost effective by customers. In the parlance of "Strategic Thinking" they are referred to as competitive advantages.
Competitive advantages manifest themselves in all companies through their business value chain — those administrative and operational processes, in which people work to sell, promote and deliver product to market. So decisions targeted to build advantages within the value-chain (as measured by business growth and profitability) are the driving force of competitiveness.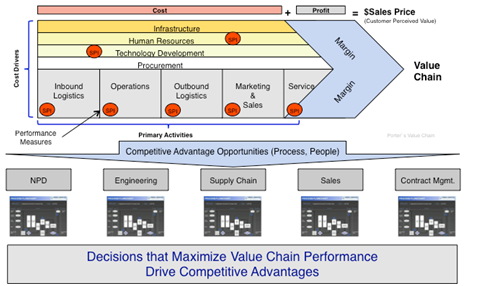 (Porter's value chain concept model)
Start by knowing the key products and markets – What are the key products offered and markets served? Sounds obvious, but many companies have many products that are not profitable, demand too many resources to service (money, time, and people), and add substantial costs without a positive financial or customer relationship return. Companies that say no to products and markets not driving profitability and growth are better positioned to target performance decisions on people and process issues that improve their competitive advantage.
Evaluate the value chain to determine strengths and weaknesses – With clarity on what to produce and what customers to focus on, companies can now assess the effectiveness of each element of the value chain. Activities that do not add value or are not regulatory/customer requirements should be stopped or changed. Use performance data, and walk through the value chain processes to assess:
1) Efficiency (cost) to perform the activities as currently outlined
2) Cycle-time (how long does it take) to perform the activities
3) Quality of activities and outputs as perceived by the customers and competitors
4) Timeliness (on-time delivery) as valued by the customers
This provides a clear performance picture on the activities to sell, promote and deliver products by exposing the "type, location and magnitude" of the value chain strengths and weaknesses. Now consider the value chain assessment from a competitor and customer perspective and ask, does the company excel over its' competition to cost effectively produce quality products on time to customers?
The answer to this question promotes decisions on what capabilities to build, sustain or enhance to drive internal advantages that translates to profitability and growth. Remember competitiveness is a function of the internal advantages a company has relative to competitors and as perceived by customers. Such advantages reside in the value chain activities.
(Now) Use decision analysis to design a competitive value chain – For this writing, I will talk about the two primary categories of "value" criteria, not how to conduct an actual design using decision analysis.
Decision criteria for designing competitive advantages into the value chains fall into two categories – competitor and customer. What can companies do that differentiates them from their competitor and does that differentiation translate to customer value? These two differentiations must work in tandem. There is no sense on having differentiated product or service in which customers don't see the value. Or conversely, customers see a great product or service, but there are several competitors that do the same basic thing – that is not an advantage.
Criteria that differentiate products or services from the competition:
1) Unique – is this product/service unique relative to competitor offerings?
2) Valuable – is there a need, market for the product or service?
3) Costly to Imitate – could your competition easily replicate the product or service?
4) Non-Substitutable – can the offering be replaced by some other competitor's product/service?
Criteria that differentiate products or services through the eyes of a customer:
1) Innovative – product/services viewed as a "better way" from other like products?
2) Quality – is the product/service more reliable compared to like competitor offerings?
3) Customer Responsiveness – is serviceability of the product rated high by customers?
4) Cost (efficiency to produce) – are customers willing to pay for the product/service?
Leaders need to evaluate value chain performance alternatives that improve competitiveness through the filter of competitor and customer differentiated criteria. Effectively done, the company is now making competitive decisions based on performance data.
Recap – Competitive Decision Making:
1) Know what creates business competitiveness – relative to the competition and customers
2) Focus on Key Products and Markets
3) Assess the effectiveness of your Value Chain to deliver key products to market
4) Use Value Chain effectiveness data to drive decisions that create competitive advantages
This blog post was authored by Keith Pelkey, Partner, Thinking Dimensions.
Other writings related to Process Performance authored by Keith Pelkey – Partner, Thinking Dimensions Global
Are Your Business Processes Creating Value? www.blog.thinkingdimensionsglobal.com
Simplify the Path to Process Performance Management " "
Managing Competitiveness Through Product Development " "
Stop Reacting to Results and Learn to Manage Performance
Seize Control of Your Business Performance www.thinkingdimensionsglobal.com
"Mining" for EBITDA: Delivering Substantial Results in 30 Days " "