On a day to day basis our attention is consumed by events and incidents to which we react. In response to some of these, we drill down and do root cause analysis to ensure that an incident does not recur. Somehow it does not cross our minds that whilst we are doing the right things, we are only doing so reactively based on what has already happened. We are in a perpetual cycle of fire fighting!
Continual Service Improvement implies that we should over time eliminate the causes of all performance deficiencies in our Information Technology ecosystem, if we only look at it reactively, we will do Incident and to some extent problem management, but will never get to Continual Service Improvement. CSI does not only deal reactively with events, it implies looking at present performance deficiencies other than events occurring, as well as the prospect of future incidents and performance deficiencies. CSI aims to improve the overall quality of the IT ecosystem!
It does not matter if you subscribe to the quality philosophy of Deming, Juran or Crosby; they would all remind you to deal with occurring incidents and they will emphasize that you need to review the IT ecosystem and proactively identify inherent performance deficiencies as well as future probable events. The question in our hectic service management environments is, so how do we do it?
One way to get ourselves to start paying attention to the CSI space, and it is by no means the only way, is to put on a risk hat and critically ask the following questions: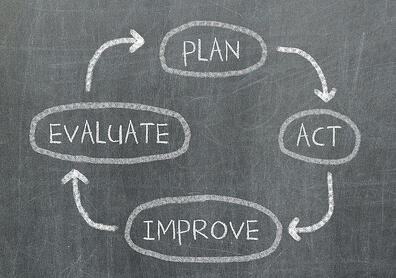 > Which aspects of our current performance are likely to become issues in the next year? Is this not an IT CSI project to launch now?

OR

> What does our Risk Audit tell us about the probability that our service operations may be interrupted in future? Are these possible interruptions not a topic for a project now?