The Setting for a QBR
P&L owners of the world are busy at work crafting slide packs for upcoming quarterly business reviews (QBR) for their company, business unit or market. Tensions are running high as they pull data into decks, plug numbers into graphs, and ready their teams to present the results of quarter 1.
The biggest gripe we hear from P&L owners during this reporting period is not about their actual results but how long and how many resources it takes to get "QBR ready" while they still run the business. Nevertheless, they must prepare for this gauntlet.
The Problem with QBRs
With a world of good intention and load of resources consumed – not to mention hotel, travel, dinners and expenses – the presentations commence and here's where it all falls apart.
QBRs present data everyone knows. This is a gross misuse of valuable resources and a very passive versus proactive intent.
It's like watching a movie you have already seen. Underwhelming. If this sounds like your company, you need to change things to better utilize resources and more importantly use your people to deliver better financial results.
Three (3) Essential Steps to Better QBRs
If you are a CEO, ensure you assess your QBR format and set expectations with these mandates in mind. If you are the P&L owner – and the one doing the presentation – you may not have the authority to do a wholesale change of resetting a quarterly meeting format, but you can at least be aware of what your deck should accomplish at this meeting).
Do your QBR's meet these mandates?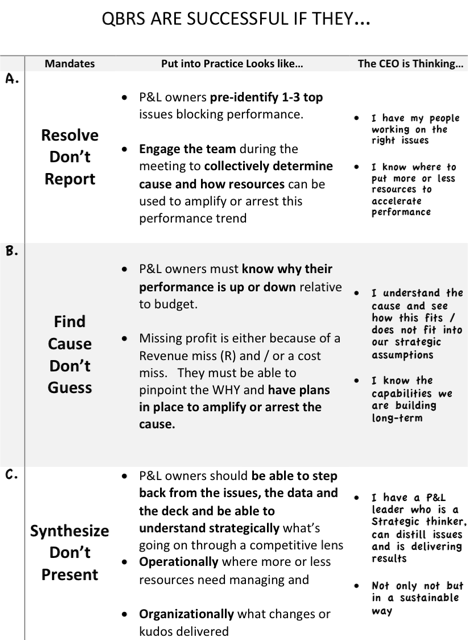 QBRs are necessary to get the right people, in a face to face setting, to ensure they have the right data to resolve the issues. If you QBRs are not seen as valuable and proactive use of your resource time, and you have scarce resources to allocate – you may want to make some changes.
Connect with me if you have questions or comments.