The way B2B purchases are researched and decided on are evolving rapidly.
5 interesting changes include:
89% of B2B purchases are researched on the Internet.
68% of researchers are under the age of 45.
71% of research starts with a generic search.
42% of the research is conducted with mobile and this segment is growing at 91% per year.
70% of researchers watch videos up to as long as sixty minutes in length to become informed in their new purchase decisions.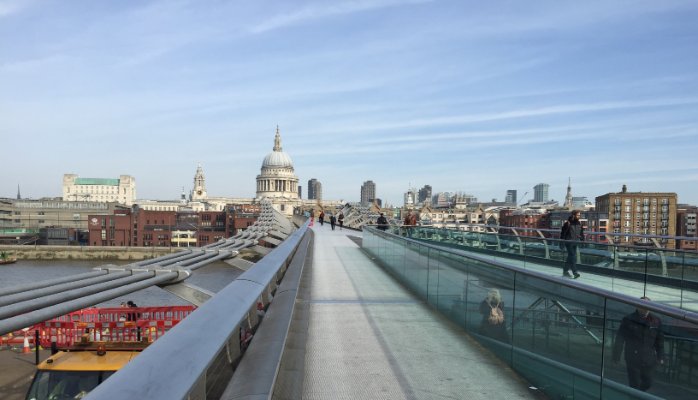 Taken by Scott during a recent work session in London.
As with the Millennium Bridge- are you opening new ways for your clients to do business with you?
Over 3000 B2B researchers data were included in a Google study on how B2B purchases are researched between 2012 and 2014 to bring these surprising findings (you can see the study here).
The discussion in the C-Suite, the boardroom, and the marketing offices of B2B world class producers around the world are changing significantly regarding this area of capabilities that formerly were not considered a top priority to many.
While traditional sales methods and channels are maintained, it is now recognized that investing and developing the capabilities required to provide a robust Internet and social media presence for B2B organizations are a strategic must for those wanting to remain competitive and relevant.
Some points you can cover with your colleagues in discussing the importance and priority of investment in Internet and Social Media include the following points highlighted by the study published this week by Kelsey Snyder and Pashmeena Hilal at Google:
Typical Objection: The Internet is frequently used by Millennials and they are not the decision makers for our complex B2B products and services.
Reality: Millennial buyers now account for more than 50% of all purchasers with a 70% growth rate in the last two years.


Typical Objection: Our B2B marketing should only target the highest level executives.
Reality: 49% of decisions have heavy influence or final decision making authority outside of the C-Suite.


Typical Objection: B2B customers don't start with generic searches on the internet.
Reality: 71% of B2B purchase decision research starts with a generic Internet (non-branded) search.


Typical Objection: B2B researchers don't use mobile devices.
Reality: 42% use mobile in their purchase search and this is growing at a rate of 91% per year.


Typical Objection: Video is not that important online for B2B product and service purchases like ours.
Reality: 70% of researchers are watching videos up to one hour in length with a particular emphasis on product features.
The shift in how your B2B customers are learning about your company and importantly, researching purchases is changing rapidly. Since 2012 alone, the change to watching video for example is a massive 52% increase in 24 months.
As with all elements of your strategy and capabilities development planning, the C-Suite and the Board need to monitor and adjust quickly to new changes in the market and the purchasing decision making environments. As with all aspects of your branding, your positioning, and your investment in protecting the future, digital more than ever is a reality that is changing quickly and needs proper attention in the C-Suite and the boardroom should you wish to remain in top positions.
Click here to learn more about how to utilize your most important resource - your people!