A firm's competitive advantage is the unique and valuable combination of capabilities a company exploits to deliver higher profits relative to the competition. A company's competitive advantage can only be confirmed if the customers truly deem it unique and valuable – and pay the premium. The definition is very intuitive to most executives – as they understand that price-cost=profit and they are either getting more, less, or a parity part of this equation. However the danger we observe on many occasions is that the dialogue on competitive advantage becomes too internally focused without testing the external factors that effect the three components of this Price-Cost=Profit relationship.
To enhance your management teams lateral thinking and cultivate strategic alignment we suggest you integrate the P-C=P discussion with the well known – but either, over, under or misused Michael Porter's Five Force Framework (http://en.wikipedia.org/wiki/Porter_five_forces_analysis) in a two step process.
One, ask and capture the answers they have to the following questions.
What impact do Substitutes have on Price? Cost? Profit?
What impact does Threat of New Entrants have on Price? Cost? Profit?
What impact does Buying Power have on Price? Cost? Profit?
What impact does Competitive Rivalry have on Price? Cost? Profit?
What impact does Supplier Power have on Price? Cost? Profit?
Two – then show them how the five forces relate to the P-C=P cause effect relationship see below) and have them evaluate your own firm's situation with the new insights they have uncovered armed with this new visual on how it all fits together. They quickly see the critical factors they can and cannot influence and importantly the impact to the business.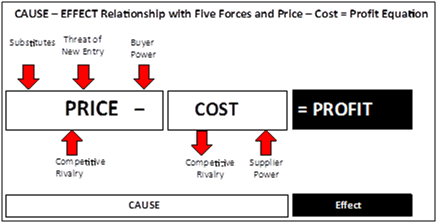 Three key benefits emerge from this management dialogue
1. It forces your management team to think externally about key dimensions that impact industry profitability and helps to guard against insular thinking.
2. It provokes them to focus on the causes of competitive advantage and discern if you really have one rather than the effects ( profitability) which is an outcome.
3. It simplifies, connects and makes actionable important strategy thinking tools that once seemed academic