Through Simulation to Exasperation (Blog 2 of 5)
You will have noticed this is Part 2 and as such is a continuation form "Viewing the Problem from the Customer's Shoes." We have taken 16 unsuspecting participants and are about to launch them into the Polestar business simulation to help them to better understand the business they are in (Their Day Jobs). This is the first step in creating order from chaos.

The Polestar business simulation is based around 4 present day businesses, which are part of a large commercial group.
CrossWired - Electrical supplier

GizmoTech - "Toys for the Boys" retailer

Starbooks - Books for anyone and everyone

Stars-on-Vinyl - Music retailer

Each business is trying to be successful in the online and retail elements of their business. Participants are appointed to positions that will hopefully allow these businesses to be more successful in each of their chosen mediums. The roles will range from being members of the Technical or Service Desk Team through to the individual who is responsible for the whole group's performance - The Group Director.

The facilitator is responsible for outlining the roles and responsibilities of each group of participants and also the overall targets for the company. The Polestar simulation system is managed through customised software that tracks the decisions made while at the same time generating more problematic situations for the participants that they will need to solve in a relatively short period of time. Remember each simulation session is less than 30 minutes long and is meant to represent a month of business dealings. The scores attained by the groups are translated into a business spreadsheet that illustrates just how well each company is performing in terms of:
Successful Customer Transactions handled

Profit/Loss per session

Operating systems availability

Mean Time to Restore Service

Once the roles have been assigned and explained, each of the groups/individuals are given time to set up any systems that they believe will "stand them in good stead" during the simulation. They may also liaise with the other groups or individuals in any way they deem appropriate. All the participants are then exposed to a 10 minute overview of how Polestar works and again they can confer with their colleagues before the 1st 30 minute session gets underway.

At this stage, it is probably a good idea to give any insight into why we use a simulation with a group of fairly high powered individuals and why it has been so successful in the various disciplines we have worked in.


The best way is probably to refer to Kolb's Experiential Learning Cycle in which he looked at how learning took place and how it could be applied in a range of situations.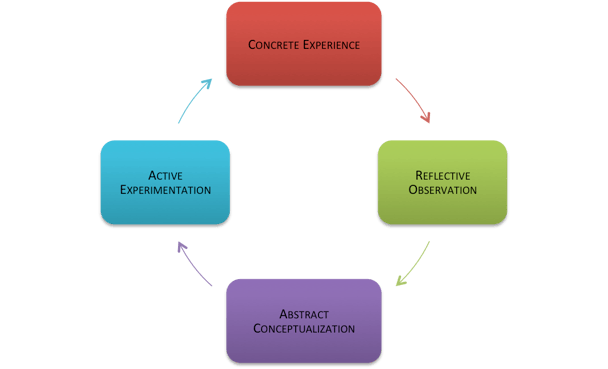 Effective learning is seen when a person progresses through a cycle of four stages.
(1) Having a concrete experience (The Polestar Simulation)

Followed by


(2) Observation of and reflection on that experience (Review Session)

Which leads to

(3) Formation of abstract concepts and generalizations (Group Analysis)

Which are then to

(4) Test hypothesis in future situations (Apply new processes/systems)
Probably the most important element, and this is why I have left it to last; the facilitator needs to be very clear in his/her mind as to what Learning is actually going to take place? The simulation and all the incidents or problems that are created within it are put in place for a specific purpose. In the case of this exercise, there were 5 very important aspects of the participant's jobs that needed to be clarified and reinforced. In most situations, the facilitator will sit with a development team from the organisation and thrash out the most important business skills or processes that are required.

Please join me in my next blog to see how we tackled the 5 business skills that topped the list!
To read all the blogs in this series, subscribe today.